Oil painting
Rainy weather: horses in a stream
1848 (painted)
Hildebrandt, Eduard
Height: 39.4 cm estimate, Width: 57.8 cm estimate
1539-1869 PDP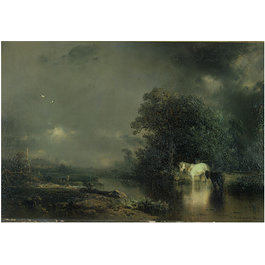 Oil Painting, 'Rainy Weather: Horses in a Stream', Eduard Hildebrandt, German school, 1848
A white horse and a small dark horse standing in a stream before a stand of trees; their reflections are visible in the water; a large stormy sky.
Eduard Hildebrandt (1818-1869) was born in Danzig where he first studied and then went to Berlin. He became an apprentice to the marine painter Wilhelm Krause (1803-1864) and later to Eugène Isabey (1803-1886) in Paris where he sojourned while travelling in Europe. In 1843 he returned to Berlin, where he met Alexander von Humboldt (1769-1859), with whom he enjoyed a close friendship. He is famous for his panoramas of towns, views of colonial buildings, harbours and native settlements, landscapes and genre scenes. This painting is a fine example of Hildebrandt's landscape paintings. Dated 1848, this landscape was probably executed while travelling in Northern Europe, more specifically in England and Scotland. It shows two horses in a rainy landscape with a distant house in the left background and is quite typical of the Bidermeier imagery which developed in Germanic Europe in the second half of the 19th century. The artist focused here in the rendering of atmospheric lights while providing his picture with a high degree of finish. The composition and palette is slightly reminiscent of Isabey's technique, which had a lasting influence on his work.
Rev. Chauncey Hare Townshend, listed in the 1868 post-mortem register of the contents of his London house (V&A R/F MA/1/T1181) in the Library as 'Oil on canvas. Rainy weather; horses in a stream. By E. Hildebrandt. In frame. Signed. German. Dated 1848'; bequeathed by Rev. Chauncey Hare Townshend, 1868. Historical significance: Hildebrandt's work was highly regarded by his contemporaries and this painting offers an interesting example of his treatment of light effects. His major artistic achievement, however, was as a painter of such distant lands as South America and northern Scandinavia. His travel in Brazil inspired him to study atmospheric effects in other parts of the world as well. In 1847 he travelled to England and visited Scotland which countryside probably inspired the present work. Typical of his art is also a strong tendency to cultivate contrasts and to dissolve forms with his brushstrokes like in the two horses on the right foreground. The uniform cool palette is here enlivened by the horse's white coat reflecting onto the stream surface and the patches of sunlight coming through the thick layer of clouds and highlighting small areas in the foreground. Although clearly influenced by Isabey's technique, the composition is also reminiscent of the 17th-century Dutch imagery which aroused a new interest among Realist painters. This painting was bequeathed by the Rev. Townshend who had a important collection of 19th-century landscape paintings representative of patrons and collectors' taste of the century. Hildebrandt's oeuvre is little represented in the U.K. and mostly in private collections whereas many of his watercolours and drawings are in the collections of the Staatliche Museen, Nationalgalerie, Berlin.
Bequeathed by Rev. Chauncey Hare Townshend
Location: In Storage