Oil painting
Lady Seated by a Fountain, Attended by a Gallant
mid 18th century (painted)
Lancret, Nicolas
Height: 66.7 cm approx., Width: 85 cm approx.
508-1870 PDP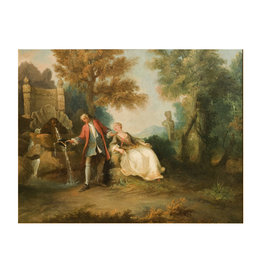 Oil Painting, 'Lady Seated by a Fountain, Attended by a Gallant', Circle of Nicolas Lancret, mid 18th century
A lady in eighteenth-century costume, attended by a gallant, is seated beside a fountain in a landscape with a terminal stone figure on the left and hills in the background.
Nicolas Lancret (1690-1743) was born in Paris where he first trained as an engraver before becoming the apprentice of the history painter Pierre Dulin (1669–1748), and enrolled as a student at the Académie Royale de Peinture et de Sculpture. He later entered the workshop of the genre and decorative painter Claude Gillot (1673-1722), who had been Watteau's master (1684-1721). He specialised in the genre of the fêtes galantes inaugurated by Watteau and decorative works for which enjoyed a considerable success. This painting is a typical pastoral scene which developed under the influence of Antoine Watteau in the first half of the 18th century. It depicts a couple of lovers resting by a fountain, a common theme in the gallant genre. The pastel palette, disposition of the trees and overall landscape are reminiscent of Lancret's compositions but are not as refined as the master's. The figures however, despite a broad resemblance to Lancret's characters, appear rather clumsy.
Bequeathed by John M. Parsons, 1870. Historical significance: This painting was acquired as by the Baroque François de Troy (1645-1730) but bears in fact many similarities with the oeuvre of Nicolas Lancret. It depicts a pastoral scene, typical of the first half of the 18th century, with two lovers set in an idyllic landscape. The rest by a fountain was a popular subject among artists of the first half of the 18th century. This work is similar to such compositions as The Sleeping Sheperdess, c. 1730, National Museum of Western Art, Tokyo, and Le Maître galant, a print made after N. Lancret by Jacques Philippe Le Bas in 1748 (The British Museum, London -1876,0708.2452). The print presents a similar fountain with a grotesque mask from which flows the water and a classical statue which recalls the terminal stone figure in the present composition. The pastel palette, broad-leaved trees silhouetted against a pale blue sky while the background hills are vanishing in blue hues are characteristic of Lancret's style although the design does not do justice to Lancret's skilful draughtsmanship and may therefore have been executed by one of his close followers.
Bequeathed by John M. Parsons
Location: In Storage