Oil painting
Nicolas Ionides
ca. 1840 (painted)
Watts, George Frederick (OM, RA)
Height: 29.75 in estimate, Width: 24.625 in estimate
CAI.1148 PDP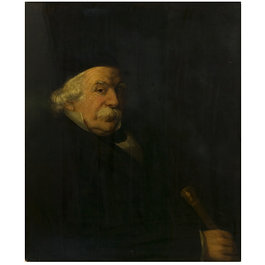 Oil painting on canvas, 'Nicolas Ionides', George Frederick Watts, ca. 1840
Three-quarter face, helf-length portrait of an old gentleman apparently seated towards the right looking in the direction of the viewer. He has white hair and a white moustache; his eyes are brown. He wears a black cap, a black coat and a black bow. The background is dark.
George Frederick Watts (1817-1904) had little formal training as a painter. In 1835 he entered the Royal Academy Schools but was rarely there, preferring instead to learn from his own studies of objects such as the Elgin Marbles. Despite being a successful history painter, Watts is best known for his portraits. He painted many of the notable figures of his day including William Morris and Cardinal Manning. He travelled widely and exhibiting abroad, on the Continent and in New York, helped establish his reputation as a prominent artist. Watts was elected ARA early in 1867 and then RA later the same year. This portrait was one of around ten portraits by Watts of various members of the Ionides family. Constantine Alexander Ionides was a keen collector of art and when he died in 1900 he bequeathed over a thousand paintings, drawings and prints to the Victoria and Albert Museum. This particular painting of Nicolas Ionides is one of a group of 20 family portraits which, while part of the original bequest, did not come to the museum until the death of his widow in 1920.
Bequeathed by Constantine Alexander Ionides, 1900. However, it was stipulated in the will that this, along with 19 other family portraits, should stay in the family until the death of his wife - she died in 1920 when the paintings were received by the museum. Historical significance: George Frederick Watts was born on 23 September, 1817. He received no regular schooling on account of poor health, but later studied under the sculptor William Behnes and entered the R.A schools in 1835. In 1837 he achieved recognition for The Wounded Heron (Compton Watts Gal.), exhibited at the R.A. Watts won a prize of £300 for his painting Caractacus in the 1843 Westminster Hall competition. He went to Florence until 1847, where he worked under the patronage of Lady Holland. On his return to England, Watts won a further prize of £500 in the Westminster Hall competition for his Alfred inciting the Saxons to prevent the landing of the Danes. Inspired by Michelangelo and with his reputation now firmly established, Watts was determined to devote himself to grand, universal themes such as Faith; Hope; Charity; Love and Life; and Love and Death. However he rose to front rank as a portrait painter and painted of his many eminent contemporaries including Thomas Carlyle, John Stuart Mill, William Gladstone and John Everett Millais. He was elected to the A.R.A and R.A in 1867. In 1864 he married 16-year-old Ellen Terry and painted a charming allegorical portrait of her, Choosing, but the couple separated the following year. A major late sculpture, Physical Energy (1904, London, Kensington Gardens) is surprisingly modernistic. Watts presented many of his works to art galleries and institutions. He died on 1 July, 1904. Nicolas Ionides (c.1770-?) was the elder brother of Constantine Ipliktzis, or Constantine Ionides, (1775-1852, CAI 1140), a Greek textile merchant and the grandfather of the V&A museum's donor, Constantine Alexander Ionides (1833-1900, CAI 1141). In this portrait, the elderly gentleman is shown in a three-quarter view, wearing a black suit and dark hat. He holds a cane in his right hand. In 1815, the sitter's younger brother Constantine Ipliktzis came to England with a view to exporting Manchester cloth to Greece and Turkey and established a branch of his firm in London. Constantine was famous in Athens for his charitable endowment of schools, universities and hospitals. Little is known about Nicolas himself, although he is known to have been an artist. He died unmarried. G. F. Watts was a lifelong friend of the Ionides family and painted this portrait in about 1840 when Nicolas was in his seventies. Watts painted over fifty members of the Ionides family spread over five generations. The painting entered the V&A collection along with 19 other portraits in 1920 after the death of Agathonike Ionides, wife of Constantine Alexander.
Bequeathed by Constantine Alexander Ionides
Location: In Storage