Print
A view of the Loggie in the Vatican
ca. 1830 (made)
I.G.G
Height: 36.9 cm Image size, Width: 26.4 cm Image size
14899:2 PDP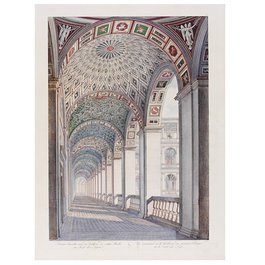 A view of the Loggie in the Vatican, signed IGG, hand-coloured engraving, German, ca. 1830.
A print showing a view of a balcony with a curved decorated ceiling.
This German engraving shows a view of the first floor of the Pope's apartment in the Vatican, overlooking the courtyard. The vaulted room is known as Le Loggie or Le Loggie di Raffaello, named after the painter, Raphael, who was commissioned by Pope Leo X in the early 16th century to paint the elaborate interior. The themes of the decorative frescoes and paintings are mostly derived from the Old Testament. The work was carried out by Raphael's workshop, most notably the painting, by Giovanni da Udine, and was finished shortly before Raphael's death.
Location: Prints & Drawings Study Room, level D, case BOX, shelf 205