Album cover
Sutherland Album
1800-1825 (made)
Elizabeth Leveson-Gower
Height: 36.83 cm, Width: 49 cm open
E.1727-1925 PDP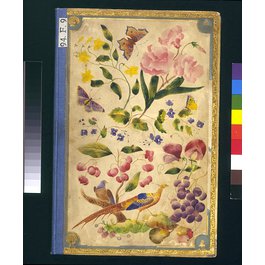 Album cover by the Duchess of Rutland to a volume of drawings and prints by Lady Cawdor, Mrs Henry Howard, the Marchioness of Stafford, Lady Gertrude Stanley, and S. Gilpin, compiled by the Duchess of Sutherland. Great Britain, ca. 1800-25.
Album cover to a volume of drawings and prints by a group of amateur artists. The cover depicts birds, butterflies and flowers.
Object Type This is an album of watercolours, sketches and prints by various artists, accompanied by handwritten copies of poems and extracts from letters. Such albums were often called 'commonplace books', in which one recorded passages to be especially remembered. People This album contains works by amateur artists who were related to one other. They include Elizabeth, Countess of Sutherland in her own right (her various incarnations through marriage were Lady Gower, Marchioness of Stafford and, finally, Countess-Duchess of Sutherland), and her friend, the amateur artist Henry William Bunbury (1750-1811). The Countess of Sutherland's nieces were Elizabeth Howard, 5th Duchess of Rutland (whose death is commemorated in a poem in the album), and Caroline Howard, Lady Cawdor, who also drew works included here. Other works are by the Countess of Harewood, whose son married a niece of Elizabeth and Caroline Howard, and Lady Caroline Georgiana Howard. There is also a print of their niece, Lady Mary Howard, inscribed 'The Rose of Castle Howard', and a drawing of Castle Howard, the Yorkshire seat of one branch of the Howard family. Even the poetry and extracts reflect family connections, including a poem by Georgina, Duchess of Devonshire, grandmother of the two younger Howard girls. It is unclear who compiled the album. Clues to its formation might be the front cover, signed 'M Rutland', and the back, which shows Belvoir Castle, the Leicestershire seat of the Earls of Rutland. But authorship apart, this is a wonderfully random collection of works by amateurs united by ties of family and affection.
Works by various amateur artists, including Elizabeth Leveson-Gower, the 1st Duchess of Sutherland (born in 1765, died in 1839), and Mary Isabella, 4th Duchess of Rutland (died in 1831).
Presented by Maj. Gen. Granville Egerton, great-grandson of the Duchess of Sutherland
Location: British Galleries, room 120, case 15