Oil painting
Sibilla Persica
late 19th century (painted)
Benson, Ambrosius
Height: 59 cm estimate, Width: 42 cm estimate
CAI.106 PDP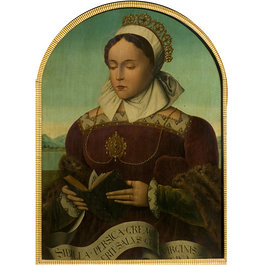 Oil painting, 'Sibilla Persica', after Ambrosius Benson, late 19th century
A richly dressed half-length female figure is holding a book in her hands. She wears a red velvet dress with fur at the elbows and green velvet on the forearms, a white cap with a jewelled coronet, and a scroll at the bottom identifies her as the 'Sibilla Persica'.
Ambrosius Benson (ca. 1495-1500-1550) was a Flemish painter of Italian origin, probably born in Lombardy in Italy. He was a member of the Guild of St Luke in Bruges by 1519 and initially worked in the studio of Gerard David (ca.1460-1523), the official painter of Bruges at the time. He rapidly became a successful painter in Bruges along with another David's pupil Adriaen Isenbrabdt, and had a prolific output: he painted a few portraits and specialised in religious scenes. This painting is a 19th-century pastiche of a common theme that Benson developed in many versions: the half-length female figure reading. This subject matter was favoured by the artist who produced many of them including indifferently figures of saints and sibyls.
Bequeathed by Constantine Alexander Ionides Ref: Basil S. Long, Catalogue of the Constantine Alexander Ionides collection.Vol. 1, Paintings in oil, tempera and water-colour, together with certain of the drawings, London : Printed under the authority of the Board of Education, 1925. C. Monkhouse, 'The Constantine Ionides Collection' in Magazine of Art, vii, 1884, pp. 36-44, 208-214. The collection formed by Constantine Ionides includes works of a wide variety of schools, periods and artists. His collection includes Old Masters, 17th century works, contemporary British works and French 19th century works. Constantine formed friendships with artists of the day, especially Legros, who, having spent 17 years in Britain, became a naturalise British citizen. Constantine proved a stable and generous buyer of Legros work, while Legros, in turn, became an advisor in the matters of art to the attentive Constantine. Under the influence of Legros Constantine developed a keen interest in French 19th century paintings purchasing works by Delacroix, Degas, Millet and Rousseau. Constantine's plans concerning his collection conformed to a more 'public-welfare' vein of thought than his father or brother. He decided to donate his collection to the Victoria & Albert Museum, instead of privately distributing it or disposing of it in a Sales room. His will states: 'All my pictures both in oil and water colors and crayon or colored chalks (but subject as to my family portraits to the interest herein before given to my said Wife) and all my etchings drawings and engravings to the South Kensington Museum for the benefit of the nation to be kept there as one separate collection to be called "The Constantine Alexander Ionides Collection" and not distributed over the Museum or lent for exhibition. And I desire that the said Etchings Drawings and Engravings shall be framed and glazed by and at the expense of the authorities of the Museum so that Students there can easily see them.' The collection bequeathed to the museum in 1901 comprises 1138 pictures, drawing and prints, to which a further 20 items were added on the death of his widow in 1920. The works are listed in the V&A catalogue of the Constantine Alexander Ionides collection. It was one of the last paintings purchased by Constantine Alexander Ionides, on 13 May 1896 for £100 Historical significance: This painting is a nineteenth-century pastiche, ultimately derived from the figure of the Persian Sibyl in the right corner of Ambrosius Benson's Madonna with Prophets and Sybils in the Koninklijk Museum voor Schone Kunsten, Antwerp (no. 262). Essentially the same figure was utilised for various other representations of half-length females, such as the Woman at Prayers, Koninklijk Museum voor Schone Kunsten, Antwerp and the Mary Magdalene reading, National Gallery, London (NG655). The jewelled coronet in the present work recalls that Benson's Woman reading also called Portrait Marguerite of Austria or Sybilla Persica, Louvre Museum, Paris.
Bequeathed by Constantine Alexander Ionides
Location: In Storage