Statuette
The Lion of St Mark (?)
ca. 1700 - ca. 1750 (made)
Unknown
Height: 7.5 cm, Length: 9.2 cm
A.3-1927 SCP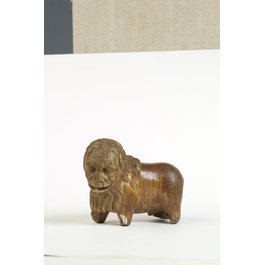 Statuette, ivory, of a lion, probably the Lion of St Mark, Mexican or Hispano-American, ca. 1700-1750
Ivory statuette of a lion, stained brown and worn. The feet have been broken away. Two holes on the back near the shoulders seem to have been used for the attachment of wings, possibly representing the Lion of St. Mark.
This statuette representing a lion with a semi-human face was bought from Captain R. Hollocombe in Mexico, where it was said to have been excarvated, although no further details are known. This is perhaps Latin American, possibly dating from about 1700-1750. The lion may have been originally the companion of a statue of St Mark, or may have been part of a crib. Similar lions with a semi-human face are to be seen accompanying St Jerome at Quito, Equador, Bogotà, Columbia, Juli, Peru and at Guatemala City.
The figure has been called perhaps North Italian, thirteenth-forteenth century (Longhurst 1929); other opinions were 'not-Columbian', South German, Indo-Portuguese. Pal Kelemen's was that it was certainly Hispano-American, probably eigtheenth century, pointing out comparable lion figures accompanying St Jerome and remarking that a number of South American artefacts were exported to Mexico (Kelemen II, 1967).
Location: In Storage