Oil painting
The Torrent
Second quarter of the 19th century (painted)
Ezdorf, Christian
Height: 60 cm estimate, Width: 80.6 cm estimate
1556-1869 PDP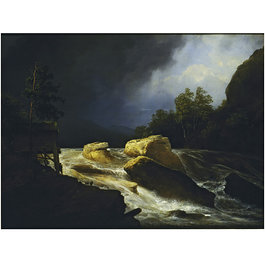 Oil painting, 'The Torrent', Christian Ezdorf, second quarter of the 19th century
Under a stormy sky, a torrent is illuminated from the left by a bright light while the rest of the scenery is bathed in the shadow; a group of trees is in the right background while on the left foreground at the bottom of a small construction raised in stilts stand a man seen in profile and two sheep.
Christian Ezdorf (1801-1851) trained in the Munich Academy and travelled to Hamburg, Copenhagen and England. He later became a member of the Stockholm Academy and was appointed painter to the court of Saxony-Meiningen. His brother Christian-Friedrich (1807-1858) engraved a number of his compositions. This painting is a fine example of Christian Ezdorf's landscape paintings, a category in which he specialised while travelling in Sacndinavia. His art is imbued with penetrating studies of nature and characterised by the rendering of dramatic weather conditions. Ezdorf was a member of the so-called Nordic Artists' Circle gathered around the Norvegian painter Thomas Fearnley (1802-1842) and the Munich artist Christian Ernst Bernhard Morgenstern (1805-1867). Unfortunately, very little is known about his life and oeuvre, which makes impossible to date the present painting. This work was bequeathed to the Museum by the Rev. Townshend who gathered a large collection of 19th-century Western landscape paintings.
Rev. Chauncey Hare Townshend, listed in the 1868 post-mortem register of the contents of his London house (V&A R/F MA/1/T1181) in the Library as 'An Oil on canvas. The torrent. By Etzdorf. In frame. Signed. German. Present Century'; bequeathed by Rev. Chauncey Hare Townshend, 1868 Historical significance: Ezdorf was recognised as the most important 'waterfall painter' in Munich and this painting, which focuses on the torrent's flow, is a fine example of his art. Ezdorf's landscape paintings are also characteristically imbued with dramatic weather conditions so as to convey a heartening feeling of nature. This painting shows a woodland torrent dramatically highlighted by a direct light while the rest of the composition is bathed in the shadow under a stormy sky. The small figures of man and sheep silhouetted in the shade against the torrent's bright hues are characteristic of the Romantic imagery, which concentrates on the contrast between the fragile humanity and the omnipotent nature. To judge by the scenery this landscape was probably inspired by the Scandinavian countryside. Such pictures attracted collectors and patrons of the 19th-century. In this regard, the Rev. Townshend's collection is representative of the taste of the century.
Bequeathed by Rev. Chauncey Hare Townshend
Location: In Storage