Statuette
Female nude, bird and palm frond
19th century (made)
Ford, Edward Onslow (RA)
Height: 45.72 cm
A.8:1 to 3-2004 SCP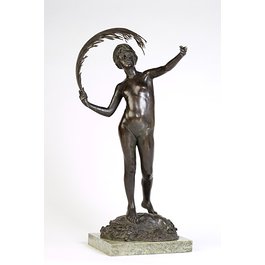 Statuette, bronze, of a female nude with bird and palm frond, by Edward Onslow Ford, Britain, 19th century
Bronze statuette of a naked female figure standing on a rock, holding a palm frond in her right arm and with left arm raised to release a bird. The palm frond and bird are seperate at the time of acquisition.
This decorative statuette of a nude female figure by Edward Onslow Ford is an example of the so-called 'New Sculpture', a British movement of the second half of the 19th century. It exhibits a sensitive naturalism, while drawing on Italian renaissance traditions. The object comes direct from one of the artist's descendants, making it a particularly interesting acquisition.
Bequeathed, together with A.5 to A.7, and A.9-2004, by Gordon Max Onslow Ford, in 2004.
Bequeathed from the estate of Gordon Max Onslow Ford
Location: In Storage