Altarpiece
1527-1533 (made)
del Maino, Giovan Angelo
Depth: 25 cm, Height: 146.1 cm crucifixion, Height: 61 cm nativity, Width: 134.6 cm crucifixion, Width: 147.3 cm nativity
137-1891 SCP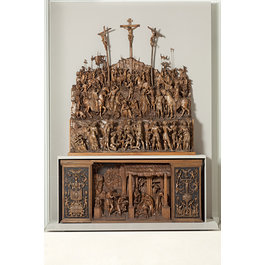 Two parts of an altarpiece from Sant'Agostino, Piacenza, depicting the Nativity and the Crucifixion, Lombardy, 1st quarter 16th century
The altarpiece is carved in pearwood. The upper section represents the Crucifixion and the lower predella the Nativity. The upper section is arranged in a triangular formation, on a rocky background which recedes to the upper most point of Christ on the Cross. Slightly below and to each side of Christ are the two thieves, also put to death by crucifixion. In the foreground The Virgin has fainted and is being supported by two holy women. On the left is John the disciple and to the right is Mary Magdalene. St Veronica is also depicted holding a napkin with an impression of the face of Christ. Surrounding the central group are Jewish soldiers on horseback alongside foot soldiers holding banners. The immediate foreground shows soldiers casting lots for the coat of Christ and to the side are more soldiers as well as women and children. The central panel of the predella shows a stable upheld by four pillars. Within the stable and in the foreground of the relief The Virgin is seated with the infant Christ with St. Joseph and three angels surrounding her. In addition, the three shepherds are offering gifts to Christ. The left background shows a detailed rocky landscape receding in to the distance. The central panel is flanked by two narrower panels. On the right hand panel a vase supported by a wheel stand is carved in the centre of the relief. The wheel stand appears to be pulled forward by five unicorns. Two cherubs stand on the wheel stand and reach out towards the unicorns. Above the vase stands a demi-figure which is holding a wreath. Further above the wreath is a phoenix and to left and right of the phoenix are two cherubs. Finally, to each side of the demi-figure are mermaids and masks, one of the sun, the other of the moon. The left hand panel depicts a coffer supporting a column which is surmounted by a lion's mask with floral scroll decoration from which hangs the napkin of St Veronica. An hour glass is carved above with a cock on either side (one missing) and a pelican above. Beneath the base of the coffer are two demi-figures and floral scrolls which are surrounded by cherubs.
This extravagantly carved altarpiece captures the full drama of the Crucifixion with vivid realism. Christ is suspended above, while below in the crowd the Virgin Mary faints. Roman soldiers and many onlookers complete the scene. The predella panel below shows the Nativity: Christ's birth is contrasted with his violent death.
This carving formed part of an altarpiece in Sant'Agostino, Piacenza where it remained until 1841. The drapery forms and grouping recall various paintings by Gaudenzio Ferrari in Piedmont.
Location: Medieval and Renaissance, room 64, case 1