Print
Rich Pendants with Monograms and Flowers
1600
Paul Birckenhultz
Height: 6.5 cm Cut to, Width: 4.8 cm Cut to
E.3707-1910 PDP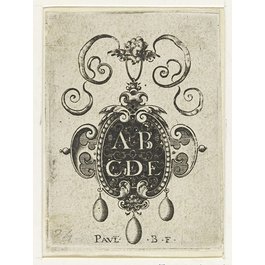 Paul Birckenhultz, one from a series of six plates, including title plate, showing designs for pendants with initial letters. German, c. 1600.
Design for a pendant hung from ribbon work surrounding a cherub head; the pendant shows the letters "AB/CDE" on a dark ground, surrounded by grotesque elements and hung with three pearls.
Paul Birckenhultz's series of engraved designs for pendants is one of several he completed during the late sixteenth century. What sets these apart is the use of initials as the focus of each pendant. Each set of initials is set on a dark ground and topped with ribbon work and a winged cherub head and hung with three pearls. Some of the pendant designs are accompanied by designs for buttons or smaller pin ornaments as well. As these designs were probably meant to be sold to jewelers who would use them for inspiration and design, it is quite likely that the initials are simply arbitrary combinations of letters. In these designs, Birckenhultz follows the work of his German predecessor Hans Holbein, whose similar designs for jewellery may be seen in the British Museum.
In the sixteenth and seventeenth centuries, personalised jewellery was a popular form of self-ornamentation. Perhaps the most recognisable personalised ornament is the Anne Boleyn "B" pendant that hangs from her neck in her famous portrait at the National Portrait Gallery (NPG 668). Though the programmeof the ornament is simpler overall, the Boleyn pendant, like the design in the Birckenhultz engraving, are hung with three pearls, in an added ornament typical of early modern jewellery design.
Location: Prints & Drawings Study Room, level D, case EO, shelf 7, box A