Cycling suit
1890s (made)
Marshall E. Smith and Bro.
[Cycling suit jacket] Length: 72.5 cm centre back, Length: 62.5 cm centre front, Length: 42.5 cm under arm to hem, Length: 63.5 cm shoulder to cuff, Width: 51 cm across chest, Width: 44 cm across shoulders, Height: 4 cm stand collar [Cycling suit breeches] Length: 41 cm inside leg, Length: 69 cm outside leg, Height: 29.5 cm fly opening, Circumference: 90.3 cm waist
T.7:1-2000 T&F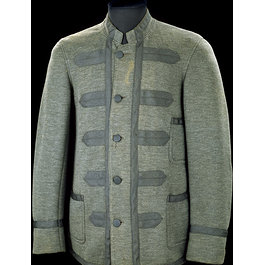 Cycling suit ensemble comprising of a jacket and breeches, knitted wool, Marshal E. Smith & Bro., Philadelphia, USA, 1890s.
[Cycling suit jacket] Square-cut grey jacket with a low stand collar and two back seams finishing in small back vents. The collar, pockets, hem, back seams and front opening are trimmed with black braid in a military style. The front is also decorated with horizontal tabs of black braid. Fastened with five metal buttons covered in black sateen. [Cycling suit breeches] Grey breeches with button-fly opening, reinforced seat lined with cotton. Fastened at each knee with metal and brass buckles. There are two back button-flap pockets and the waist has loops for a belt. The waist is lined with blue, red and yellow striped shirting and the makers label is stitched on at centre back. Fastened at the front with a flat hook.
Purchased with funds bequeathed by Ruby Alice Dobbs
Location: In Storage