Print
Monilium Bullarum Inauriumque Artificiocissimae Icones
1581
Hans Collaert
Height: 15.6 cm, Width: 10.9 cm
E.884-1912 PDP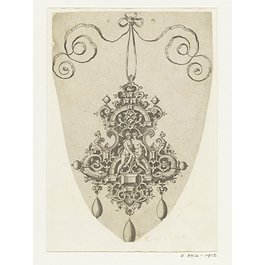 Hans Collaert (after), plate from a suite of ten, including title plate, showing designs for pendants entitled 'Monilium Bullarum Inauriumque Artificiocissimae Icones'. Flemish, 1581.
design for a pendant showing a nude couple embracing with a dolphin on either side
After his death in 1580, Hans Collaert's sons and his publisher, Philips Galle, produced two sets of engravings after his designs for jewellery. This is the first one published in 1581, and is comprised of ten prints including a title page. Each pendant is executed with delicate strapwork on a dark field, topped with a ribbon design and hung with three pearls. With the exception of the last two designs, which appear on one print and show a sundial and a clock, each pendant is also set with a mythological figure.
Location: Prints & Drawings Study Room, level D, case EO, shelf 12