Group
Rachel, The Daughter of Laban
1856 (made)
John Thomas
Weight: 265 kg, Height: 134.5 cm
257:1, 2-1885 SCP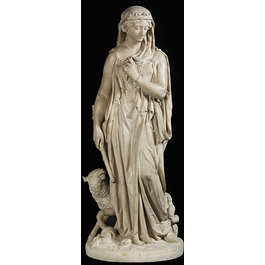 Group, marble, Rachel, the daughter of Laban with her lamb, by John Thomas, England, 1856
Group, marble, representing Rachel, daughter of Laban, with a lamb at her feet. Signed and dated.
Rachel, the Daughter of Laban, is shown with a Lamb at her feet. The story of Rachel, Laban's daughter is told in the Book of Genesis. Jacob wanted to marry her, rather than her older sister Leah, and had to wait seven years until Laban permitted them to wed. This sculpture was exhibited at the Royal Academy in 1856. Thomas began his career as a stonemason, but at the end of his apprenticeship he travelled to Birmingham, where his work was noticed by Sir Charles Barry, who commissioned him to provide all the carved stone and woodwork for Birmingham Grammar School, which Barry was then designing. This was the start of a long and industrious career, in which Thomas gained commissions for both decorative works on public buildings, as well as for freestanding sculpture. Barry later employed Thomas to supervise the stone carving on the Houses of Parliament. In 1948 he produced two reliefs for War and Peace for Buckingham Palace. Thomas also worked as an architect [!] and prepared designs for the National Bank of Glasgow, the Royal Dairy at Windsor, the Regent's Park Chapel, Headington House, Oxford and the Print Room at Windsor Castle'. He exhibited at the Royal Academy between 1842 and 1861, at the British Institution in 1850, and at the 1851 International Exhibition.
Given by Sir H. A. Hunt C.B. in 1885. Transferred on loan to the Bethnal Green Museum in 1928; returned to the Sculpture Department in 1987. Exhibited at the R.A in 1856.
Location: Corridor outside Temporary Exhibition space, room 32, case NW, shelf EXP