Figure
Sunna
ca. 1728 - ca. 1730 (made)
Rysbrack, John Michael
Weight: 150 kg, Height: 88.3 cm
A.2-1997 SCP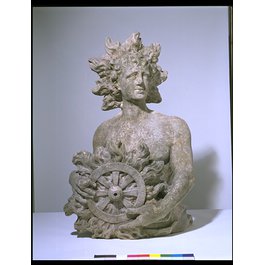 Figure, Portland stone, 'Sunna', by John Michael Rysbrack, English, 1728-1730
The head of sunna is turned to the left, and she holds a wheel in front of her with both hands.
Like the seated figure of Thuner (Museum no. A.10-1985) Sunna is from a unique series of Saxon gods that Lord Cobham commissioned for his gardens at Stowe. Each Saxon god is traditionally associated with a day of the week, and Sunna represents Sunday. The figure was lost for many years and only rediscovered in 1996. The Saxon gods are tied in with the political iconography of Stowe, and symbolise Lord Cobham's allegiance to the ideals of those Whigs who had broken away from Sir Robert Walpole. As such they represent an ancient British identity. Rysbrack was born in Antwerp, and trained in the Netherlands, but spent his working life in Britain. He was one of the most important sculptors active in this country in the first half of the 18th century, and specialised in portrait busts and funerary monuments. Although he never visited Italy, many of his works are clearly indebted to classical prototypes.
It was commissioned by Lord Cobham for his garden at Stowe. Purchased with the assistance of the Heritage Lottery Fund, the Whiteley Trust, the Hildburgh Fund and an anonymous donor for £135,862.50 from Christie, Manson & Woods Ltd in 1997.
Purchased with the assistance of the Heritage Lottery Fund, the Hildburgh Bequest, and an anonymous donor
Location: Sculpture, room 23, case FS