Door handle
2001 (made)
Grange, Kenneth
[Door handle] Length: 14.5 cm, Width: 6 cm, Height: 2.5 cm Maximum [Door handle] Length: 14.5 cm, Width: 6 cm, Height: 2.5 cm Maximum
M.38:1-2001 MET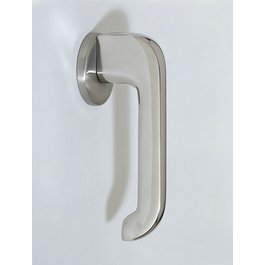 Stainless steel door handle designed by Kenneth Grange for izé workshop and retailed through Crown Hardware. Britain, 2001.
Polished stainless steel door handle consisting of two straight handles curving down at the ends, two circular brushed steel escutcheons with rubber inserts and two long screws which thread through each escutcheon and pass through holes drilled in the door.
Born in London in 1929, the industrial and product designer Kenneth Grange attended the Willesden School of Arts and Crafts there from 1944 until 1947. While serving in the Royal Engineers, Kenneth Grange trained as a technical draftsman. After freelancing for several London architecture and design practices, Kenneth Grange founded Kenneth Grange Design Ltd in 1958. Kenneth Grange worked mainly as a product designer; his chief clients were Kodak and Kenwood, makers of household electrical appliances. In 1960 Kenneth Grange designed the "Chef" line in mixers for Kenwood. For Kodak, Kenneth Grange designed the housing of the "Pocket Instamatic" camera in 1975. In 1972 Kenneth Grange joined Alan Fletcher, Colin Forbes, and Mervyn Kurlansky in founding Pentagram, an interdisciplinary design practice that now has twenty partners and maintains branches worldwide. In 1990 Kenneth Grange designed the Adshel bus stops for London Transport. In 2000 he restyled the London taxis. Since the 1970s Kenneth Grange has also had numerous commissions from Japanese firms and his work has greatly influenced Japanese product design. Kenneth Grange views product design not merely as a means to improving the appearance of objects but instead as an opportunity for innovation. Consequently, Kenneth Grange sees project design as an important part of the manufacturing process.
Architectural Review Award, May 2001 Best New Product, Spectrum Design Show, 2001
Given by izé workshop.
Location: In Storage