Design
ca. 1709 (designed)
Leman, James
Height: 31.5 cm, Width: 26.1 cm, Height: 12.375 in, Width: 10.25 in
E.1861:92-1991 PDP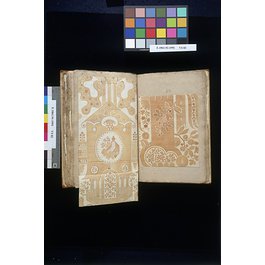 Design for woven silk from the 'Leman Album', pencil, pen and ink and watercolour on laid paper, by James Leman, Spitalfields, ca. 1709
Design for woven silk from the 'Leman Album', in pencil, pen and ink and watercolour on laid paper, in brown wash, depicting a wide vertical column which is divided into four fingers at its top. The tips of the fingers appear at the bottom of the design indicating the repeat. The column and fingers are reminiscent of a glove, the base of which is open to reveal an interior decorated with foliage. There is flowering foliage on either side of the glove shape and a thin branch bearing fruit lying across it. There is a vertical band next to the glove shape on the right. The design is short and smaller than the page on which it is pasted. It does not therefore have a folded section unlike many of the other designs in the album. The design is squared up for cords and dezines in pencil, with dezines numbered in ink.
This design is from an album that contains 104 designs for fine woven silk cloth and is from about 1709. A constant supply of fashionable new designs from which to create new lines was required, so patternmakers and master weavers like James Leman supplied a wide range of designs for different weavers. The album contains some of his work from the period 1706-1716, as well as five designs from the 1730s. James Leman was born in 1688 into a weaving family of Huguenot descent. In 1702 he was apprenticed to his father, Peter, and lived with his family in Stewart Street, Spitalfields in London. Leman's inscription on the design reveals that it was commissioned by Mr Tullie, a mercer who was an important customer of Leman's who bought 25 silks, mostly the more expensive kinds, between 1708 and 1721.
This is a design from the so-called 'Leman album' which was bought from Vanners Silks Ltd. in 1991. Natalie Rothstein catalogued the designs before the album was bought by the Victoria and Albert Museum. She gave each design a VS number (for Vanners Silks) in her catalogue Silk Designs of the Eighteenth Century. The designs have been subsequently numbered by the Prints, Drawings and Paintings Department, however, a concordance exists. Historical significance: The designs collected in the album are, with the exception of some fragmentary medieval examples in Italian collections, the earliest silk designs known to exist.
Purchased with the assistance of The Art Fund and the National Heritage Memorial Fund
Location: In Storage