Print
Antverpiae apvd Theodor Gallaevm cvm privilegio
mid 16th century before 1573
Hans Collaert
Height: 14.3 cm, Width: 8.9 cm
27857:5 PDP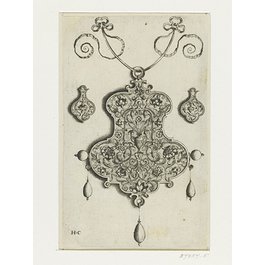 Hans Collaert (after), plate from a suite of ten, including title plate, showing designs for pendants with deities in niches and flower-arabesques. Flemish, 1604.
Second state. Verso design for a pendant with a flower piece in the middle, accompanied by two flask-shaped ornaments.
Hans Collaert made many designs for pendants and other jewellery during the second half of the 16th century. This series of ten pendant designs by Collaert was published first by Hans I Liefrinck before 1573 and later by Theodoor Galle, after Collaert's death. The ten pendants in this collection are accompanied by designs for buttons or earrings and set against a grey background. Five of the pendants contain a mythological figure in a niche. With the exception of the title plate, the ones that lack these figures are probably verso designs for similar pendants, though no two outlines in the suite are the same. The jewellery that would result from these designs was probably meant to be gold with bright enamel paint on the intricate design work and the figures that appear in the niches. In similar jewellery, the arabesque ornamentation around the figures was usually open and the figures themselves three dimensional.
For a pendant based on this design concept and roughly contemporary to the Collaert series, see 44.441 and 44.442 in the Walter's Art Museum collection, a piece which shows Diana and apparently based on 22766.3 in the V&A collection. For a further example of this style of design and vivid enamel work, see OA5630 in the Louvre's collection. (F. Allitt)
Location: Prints & Drawings Study Room, level D, case EO, shelf 12