Medallion
Charles Marbury; Charles Marbury
early 18th century (made) ca. 1700 - ca. 1720 (made)
Le Marchand, David
Height: 13 cm [Medallion portrait of Charles marbury] Height: 13 cm, Width: 9 cm
A.43:-1931 SCP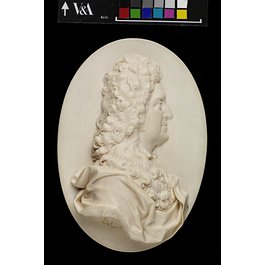 Medallion relief, ivory, Charles Marbury, by David Le Marchand, Britain, ca. 1700-1720
The sitter is shown in a draped bust in profile to the right, long full wig, the shirt open at the neck. Monogrammed. [Medallion portrait of Charles marbury] A draped bust in profile to the right, long full wig, the shirt open at the neck.
This ivory medallion in relief, representing Charles Marbury (dates unknown), is made by David Le Marchand in ca. 1700-1720 in Britain. Little is known about the sitter, although it is likely he was a member of the Rose and Crown Club, which was a social group of gentlemen with antiquarian interests. David Le Marchand (1674-1726) was famed for his ivory carvings, particularly his portraits. He was a native of Dieppe, France, and came from a Huguenot, or Protestant, family. With the Revocation of the Edict of Nantes in 1685, and the consequent persecution of non-Catholics, he had to flee France. He was next recorded in Edinburgh in 1696, where he is documented as receiving official permission to open a shop and take on apprentices. He was in London by 1700, when he started to achieve a reputation for his portraits. Despite his wide circle of important patrons and his evident success, Le Marchand apparently died in poverty, though the exact reasons for this are unknown. He is recognised as the most distinguished ivory carver to have worked in England in the early 18th century, a period when the art enjoyed a popularity unknown since the Middle Ages.
Bought for £45 from Alfred Spero, Regent Street, London, along with A.44-1931, in 1931. According to a former inscription on a label on the back of the old frame, written in a late eighteenth- or early nineteenth-century hand, the medallion was once in the possession of Sir James Lowther, 1st Earl of Lonsdale (1736-1802), the Revd. E. Chappelowe, and Mrs. Mason respectively.
Location: Sculpture, room 111, case dr5