Oil painting
Le Berger Indécis; Cavalier and Two Ladies
2nd quarter 18th century (painted)
Lancret, Nicolas
Height: 60 cm estimate, Width: 49.5 cm estimate
547-1882 PDP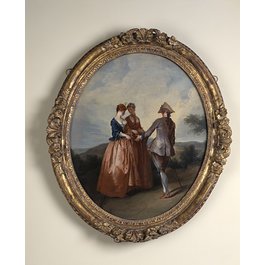 Oil painting, 'Le Berger Indécis (Cavalier and Two Ladies)', Nicolas Lancret, Paris, second quarter of 18th century
In a landscape, on a path, two young ladies dressed in red, one on the left wearing a small red hat and a blue doublet, the other with flowers on her head, are conversing with a man seen from the back.
Nicolas Lancret (1690-1743) was born in Paris where he first trained as an engraver before becoming the apprentice of the history painter Pierre Dulin (1669–1748), and enrolled as a student at the Académie Royale de Peinture et de Sculpture. He later entered the workshop of the genre and decorative painter Claude Gillot (1673-1722), who had been Watteau's master (1684-1721). He specialised in the genre of the fêtes galantes inaugurated by Watteau and decorative works for which enjoyed a considerable success. This painting is a fine example of Lancret's production of genre paintings showing elegant figures in an outdoor setting. The present picture shows two young ladies conversing with a man on a path in a landscape, the French title, Le berger indécis ('the undecided shepherd') evokes the amorous encounter that may follow this scene. Lancret's genre scenes, influenced artists as diverse as François Boucher (1703-1770), William Hogarth (1697-1764) and Thomas Gainsborough (1727-1788).
Bequeathed by John Jones, 1882 John Jones (1800-1882) was first in business as a tailor and army clothier in London 1825, and opened a branch in Dublin 1840. Often visited Ireland, travelled to Europe and particularly France. He retired in 1850, but retained an interest in his firm. Lived quietly at 95 Piccadilly from 1865 to his death in January 1882. After the Marquess of Hertford and his son Sir Richard Wallace, Jones was the principal collector in Britain of French 18th century fine and decorative arts. Jones bequeathed an important collection of French 18th-century furniture and porcelain to the V&A, and among the British watercolours and oil paintings he bequeathed to the V&A are subjects which reflect his interest in France. Historical significance: This painting, entitled Le berger indécis (i.e. 'the undecided shepherd'), shows two ladies conversing with a young man on a path in a landscape. It was originally rectangular in format and later transformed in oval. It appears to be one of the four known versions of the same composition listed by Wildestein in his monograph on the artist: one was in the Dulac sale, 30 Nov 1778, no. 335, another in the Pembroke sale, 30 Jun 1862, no. 9 and a third one was formerly in A.M. Frank T. Sabin, possibly sold at Sotheby's London, 28 March 1979, lot 182. Yet another version, with the addition of a dog in the foreground, was in the Frey collection, Paris (Sale, Charpentier, 12-4 June 1933). The composition was engraved by Ambroise Tardieu before 1841 and a preparatory drawing for the figure of the young man seen from the back appeared on the London art market in 2007 (Thomas Williams Fine Art Ltd). Lancret was a skilful draughtsman, and many drawings in red chalk, such as the present study, or the much-favoured 'trois crayons' technique have survived. This painting is a fine example of 18th-century pastoral scenes, which present elegant figures in garden or wooded settings. These scenes, called 'fetes galantes' in French, constitute a genre inaugurated by Antoine Watteau at the beginning of the 18th century. They often include figures dressed in commedia dell'arte costumes and evoke a lascivious aristocratic world. Because of their intimate and often ambiguous subject matter, these pictures were also used as decorative compositions inserted in architectural structures or pieces of furniture.
Bequeathed by John Jones
Location: In Storage