Kerchief
1760-1795 (made)
Unknown
Length: 90 cm, Width: 90 cm, Length: 35.5 in, Width: 35.5 in
T.57-1988 T&F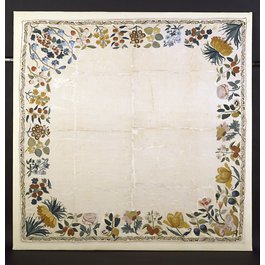 Embroidered kerchief of fine tabby silk, probably made in Hungary, or possibly in Poland or Bohemia, 1760-1795
Embroidered kerchief of fine white tabby silk with 33 warp and weft threads per cm. The hem is rolled on all four sides and overcast with pink silk (faded). The design is worked in double darning (in Turkish it is called 'pesent') with fine S-spun, unplied silk. Along all four sides there is a 2 cm deep border of scrolling stems bearing flowers, fruits and berries. Above this there is a 12 cm deep border of isolated floral or fruit sprigs arranged so that the kerchief can be folded diagonally to reveal different design and colour combinations. Square but designed to be folded and worn as a triangle. The kerchief could be folded to create three different effects: 1. With a Crown Imperial at the lower corner there is one border of each type on either side. 2. With a pomegranate in the lower corner there are identical borders with deep colours. 3. With the red currants and hyacinth in the lower border there are identical borders with paler colours. The embroidery is reversible.
This delicate kerchief has an exceptionally complex design. The fine silk has been skilfully embroidered with a reversible pattern of individual plants. At least eleven of the seventeen fruits and flowers depicted were introduced into Europe from or through the Ottoman Empire. The plants have been copied from botanical drawings, and the source of these designs would probably have been a series of scientific studies published in Central Europe in the middle of the 18th century. However, the embroidery technique is not European. The stitch used is one of the most characteristic Turkish embroidery stitches, known in English as double darning and in as Turkish 'pesent'. Because the needle goes over the same row twice, both sides of the work are identical. As the fine silk ground is completely transparent, the kerchief needs to be folded slightly off centre. Then it is possible to see two borders in perfect detail, doubling the effect of pattern and colour.
Registered File number 1988/352. The following rough identification of many of the plants used was done by the horticulturalists Patrick and Fionna Griffiths of Purton near Swindon: Pomegranate - Persia/Afghanistan, Plum - Persia possible origin, Tulip - Central Asia/Asia Minor, Chinese lantern, Anthemis? - South East Europe, Paeony - Mongolia, Red Plum/Damson?,Crown Imperial - Anatolia, ? red currant type leaf?, Almond?, Cherry, Solanum/PotatoVine/Woody Nightshade?, Sweet William/Pink - South East Europe, Wallflower? - Eastern Mediterranean, Wild Hyacinth - Asia Minor, Red Currant. Some have been easily identified; others are more difficult because their modern counter-parts have been changed through cross-breeding and it is only possible to suggest the family to which they might belong; some have not yet been identified. There are 17 different floral motifs and at least 75% were introduced into Western Europe from or through the Ottoman Empire. These plants were not drawn from life but were copied from published botanical plates. By looking at the style of the drawings it is possible to suggest a date of place of origin: 'Plantae Selectae' by Georg Ehret published in Nuremburg in 1750 is very similar. After London, Nuremburg was the most important centre of botanical art in the 18th century and many artists of greater or lesser distinction studied under Ehret, so his work must have been known throughout Central Europe. The embroidery is reversible: at the beginning of the 17th century Pietro della Valle wrote that he saw Turks embroidering 'with silks in various colours ... showing the same pattern back and front'. Towards the end of the 18th century Lady Elizabeth Craven found the same embroidery technique equally puzzling: she mentions a piece made of muslin with embroidered borders and says 'what I could not comprehend, both sides are the same.' This effect is achieved by the most characteristic of all Turkish stitches: in English it is called double darning and in Turkish it is called pesent. Because the ground fabric is transparent and because the embroidery is reversible the designer did not intend the kerchief to be folded into an exact triangle - the lines and colours of the two borders would become indistinct. If the kerchief is folded slightly off centre it is possible to see two borders in perfect detail, one slightly above the other.
Given by Miss S. and Mr C. Stevenson
Location: In Storage