Drawing
Rana Sirdar Singh
1841 (made)
Unknown
Height: 337 mm, Width: 246 mm, Height: 341 mm paper onto which object mounted, Width: 266 mm paper onto which object mounted
IS.444-1952 SSEA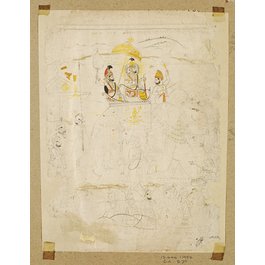 Drawing, Rana Sirdar Singh on elephant, ink and watercolour on paper, Mewar, 1841
Drawing, ink and watercolour on paper, highlighted with colour depicting Rana Sirdar Singh of Udaipur mounted on an elephant with a parasol held above his head, and attendants walking alongside.
From the Gayer-Anderson collection.
Given by Colonel T. G. Gayer-Anderson, CMG, DSO, and his twin brother Major R. G. Gayer- Anderson, Pasha.
Location: In Storage