Hanging
late 19th century (made)
Unknown
Length: 335.5 cm, Width: 162.5 cm, Length: 132 in, Width: 64 in
IM.48-1925 SSEA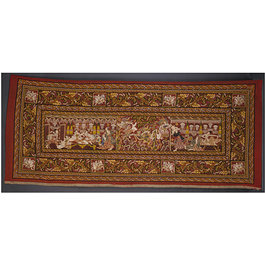 Embroidered hanging (Kalaga) of dyed woollen cloth, Mandalay, late 19th century.
Embroidered hanging (Kalaga) of madder-dyed woollen cloth, edged at the top with green satin. The appliqué ornament is executed in shaped pieces of prepared cottons of various tints, coloured woollen fabrics, green velvet, white cotton and silver sequins. The supplementary details are painted in Indian ink and watercolours. Two unrelated scenes from different stories are depicted in the central panel. To the left is a Naga-King with his Queen and two ministers. Another courtly pair are shown before him. In the middle and the end sections are scenes from Manohari or Manohara. The action begins on the right, in which Prince Thudanu, the husband of Dway Mai Naw (Manohari), is in conversation with his minister. Behind them another minister hold the heroine's child up to her as she prepares to fly back to her fairy kingdom called Ngwe Taung (Silver Country) to escape being offered up as a sacrificial victim. In the centre, she flies over mountains and is threatened by a belu-kinnara (demon half-human and half bird-like creature). The borders of this kalaga are decorated with undulating foliate patterns, small panels containing equestrian figures, and a rich variety of acheik motifs. The figures are dressed in the elaborate costumes of the Konbaung Dynasty.
This fine kalaga (pictorial textile hanging) was obtained by a British officer, while stationed in Burma in the latter part of the 19th century. Kalagas were used by the Burmese either as decorative wall hangings, to partition a room or, on festive occasions, to form a screen outside. They grew in popularity from the middle of the 19th century in Burma. This kalaga of red woollen cloth, with an applique design of shaped coloured fabrics (partly painted) and silver sequins, illustrates episodes from the popular Manohari legend. The ornate costumes of the figures are depicted in the stylised tradition of Burmese theatre, themselves relating to those of the Mandalay Court of around 1880. Britain took control of Burma stage by stage during the 19th century until in 1885 the entire kingdom came under British rule. By this period the extravagantly decorated design of these hangings appealed to Burmese and Europeans alike.
Manohari or Manohara are from a series of plays based on the Panji legends and cycles of plays of Malaysia and Indonesia. This Kalaga, and IM48 1925 were bequeathed to the donor by the late general Deedes. D.S.O. Rifle Brigade who was his Colonel in the Regiment when in Upper Burmah 1886-1888. Inf. supplied by Noel F. Singer June 2002
Given by Major Sir Bartle C. Frere, Bt, DSO
Location: In Storage