Diptych
ca. 1370-1380 (made)
Unknown
Length: 5.8 cm, Width: 7.8 cm open, Width: 4.2 cm closed, Depth: 1.6 cm
214-1874 MET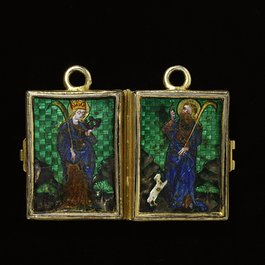 Diptych pendant, silver-gilt and enamelled on the outside with St Catherine of Alexandria and St Agnes, and with cast figures and blue enamel on the inside. A later inscription reads 'Pray for the soul of Thomas Bayley'. France about 1370-80.
Diptych pendant, silver, silver gilt, enamel. Of rectangular form, with integral hinges, with plain moulded edges and two suspension rings above. Inscribed along the edge of the left hand panel 'Ora p[ro] a[n]i[m]a D[ominum] Tho [mas] Bay LEI' ('Pray for the soul of Thomas Bayley'. The panels enamelled on the outside, and decorated on the inside with cast figures and canopy work on a ground of blue enamel. The enamelled exterior panels represent St Catherine of Alexandria (left) and St Agnes (right): the interior scenes represent the Crucifixion with the Virgin and St John (left) and the Virgin (right) set against a ground of dark blue enamel. The two enamelled saints are represented with a background of enamelled translucent over a pattern of squares hatched alternatively horizontally and vertically.
This is clearly a Parisian production whose design and enamelling technique herald the Royal Gold Cup (ca. 1390) in their tendency towards naturalism, though the diptych was plainly made a decade or so earlier. As a work intermediate between the more formal Gothic style of the earlier fourteenth century and the naturalistic style of its final decades, it is of considerable art-historical interest. The inscription suggests that the diptych was once owned by the Roman Catholic divine Thomas Bailey DD. Bailey was born in Yorkshire and studied at Clare Hall, Cambridge, where he proceeded BA in 1546. About 1557 he became Master of Clare. On the accession of Elizabeth he refused to comply with the change of religion, was deprived of his mastership, and went to Louvain, where he was admitted DD. He remained at Louvain until Jan 1576, when he moved to Douai at the invitation of Allen. He managed the temporalities of the College, and in Allen's absence was usually appointed its regent. He died at Douai on 7 October 1591.
Location: Jewellery, room 91, case 6, shelf C, box 11