Furnishing fabric
The Offering to Love
about 1792-1815 (manufactured)
Huet
Length: 102 cm Incomplete repeat, Width: 94 cm
T.452-1919 T&F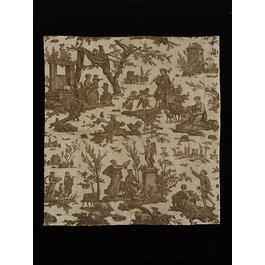 printed cotton,about 1792-1815, French; Plate printed, Oberkampf at Jouy-en-Josas, design by Jean-Baptiste Huet
Copper plate printed cotton, brown (probably madder) on white ground, with idealised scenes of the countryside and family life and leisure, and a central image of a woman offering a lamb up to a classical sculpture of Cupid, Roman god of love.
The Offering to Love is typical of many scenes printed on cotton textiles in the late 18th century. It was printed at the factory established in 1760 by Christopher-Philippe Oberkampf (1738-1815) at Jouy-en-Josas, a village propitiously situated between Paris and Versailles, the main residences of the French court - and the most desired market for these expensive furnishings textiles. Oberkampf adopted the copper-plate printing process in 1770. By thirteen years later, his firm was so highly regarded that Louis XV named it a Royal Manufacture. Its reputation lasted well beyond its closure in 1843, monochrome printed textiles of this type often being called toiles de Jouy (literally 'cloth from Jouy') even now. While Oberkampf employed in-house designers or pattern drawers who understood the technical complexities of the printing process, he also commissioned work from outsiders, especially for these grand scale copper plate prints. Jean-Baptiste Huet (1745-1811) was the artist who was particularly influential in providing images for this particular genre, in which rural industry and the countryside are represented playfully, and references to classical mythology are made through the architecture, the costume and the sculpture depicted.
One of the pieces of printed cotton purchased from Madame Mayoux, a Parisian gallery owner and collector, in 1919.
Location: In Storage