Furnishing fabric
about 1797-8 (made)
Dugourc, Jean-Démosthène
Length: 297 cm, Width: 75.5 cm, Length: 297 cm repeat pattern (i.e. full length of fabric)
T.69-1951 T&F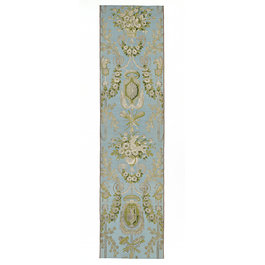 brocaded silk lampas, 1797-8, French; commissioned from Camille Pernon et cie., Lyon; probably for the court of Carlos IV of Spain; sky blue ground, green, black and silver.
General Silk brocaded in silver and three shades of green on a sky-blue/turquoise ground. The silver at the bottom of the length is slightly tarnished, but most of the length still sparkles as when new. The pattern fills the width of the silk once, and its length once. It comprises one very long repeat in which floral arrangements in vase or basket alternate with a medallion or cartouche. Each component of the pattern is connected by scrolling garlands of flowers and pearls/round beads. The blue ground has an extra white weft woven throughout to lie immediately behind the silver brocading. Two different types of silver thread were used (frisé and filé), and there are three shades of green, one of which is tightly twisted (cordonnet) and therefore gives a textured effect. The design, weaving and materials are of the most remarkable quality, representing the greatest achievement and most expensive product of the eighteenth-century silk industry in Lyon. There is a small weaving error in the main motif which is about 5 feet from the bottom of the silk. Pattern From top to bottom, the pattern comprises: 1. a basket of flowers above a laurel wreath surmounting a cartouche which contains a rayed sun-motif. The lower half of the cartouche is framed by drapery above a quiver of arrows, a club, a single arrow and a scimitar (or curved, sword-like weapon). These crossed implements are attached to the cartouche by a cord ending in tassels. The scrolls on either side of the cartouche are hung with floral festoons on top of which sits a squirrel eating a nut seated on a draped platform on either side. 2. a basket of flowers connected in similar manner with an oval cartouche containing a classical urn with emblems appended, this time in the form of a rake, spade and shovel. The place of the squirrels is taken by two long-necked birds pecking at a butterfly.
Carlos IV became King of Spain in December 1788, six months before the French Revolution. He was a great connoisseur of the arts, and had spent twenty years as heir to the throne amassing collections of musical instruments, clocks and paintings and indulging his passion for architecture. Even during the upheavals of the revolutionary wars outside Spain Carlos continued to spend money decorating his palaces. The French Revolution resulted in great reversals of fortune for those involved in silk production. Yet Pernon et cie., official supplier to the French royal household until its suppression in 1797, managed to survive, weaving silks for major clients outside France. This length was probably designed for Carlos IV and is an exceptional example of the most technically complex of woven silks. An order book in the archives of the silk-weaving firm of Tassinari et Chatel, successors to Pernon, reveals that the design was made in 1797, annotated as 'probably made for Carlos IV of Spain'. Intriguingly, no trace of the delivery of this order to Spain has yet been found in Spanish Royal Archives.
The original Accession Register provenance suggests that this piece came from the Doge's Palace in Venice. Acquired for £30 in 1951 from Miss Catherine Purefoy Fitzgerald who lived in Oxford. Her correspondence with the Museum indicates that she believed that it had been bought by her grandfather, Revd. Anthony Chester of Chicheley Hale, Bucks. between 1850 and 1860 and that it had been a hanging belonging to the last Doge of Venice in 1791 (RP 51/3326; MA/1/F662)). Historical significance: Significant as a fine example of the lavish furnishing textiles that were still being supplied to royal palaces outside France just after the French Revolution. Such an opulent textile would only have been made for a royal commission.
Location: In Storage