Painting
The Burmese Prime Minister
ca. 1826 (painted)
Unknown
Height: 11.5 cm, Width: 9 cm
IS.58-1964 SSEA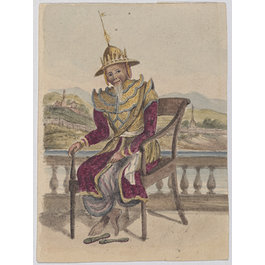 Painting of the chief Burmese Minister at the conferences of Maloon, prior to the end of the 1st Anglo-Burmese War on 1 January 1826. Portrayed in his elaborate gold and plum coloured military court costume and helmet. Probably by a Calcutta artist attached to the British forces in Burma. Watercolour on paper. ca. 1826
The Burmese Prime Minister - sitting on a European style chair on a balustraded terrace overlooking the ?Irrawady and the hills beyond dotted with ?pagodas - is portrayed in his elaborate military court costume. Consisting of a gold embroidered plum coloured watlum (robe) over a draped pah-soe (type of sarong); a heavily gold embroidered cloud collar and breast plate; and a brimmed golden helmet with a spire like ornament and ear flaps. Inscribed on the back: "The Kalein-men-Woonghee [probably Kawlin Mingy, Chief negotiator for the Burmese government with the British, 1st Jan 1826] in the War dress of ceremony worn by him at the conferences of Malloon - Janry lst 1826".
The pictures made by Indian artists for the British in India are called Company paintings. An artist from Calcutta, who accompanied the British Commissioners to Malun, Burma, in 1825-1826, probably painted this one. They had gone there for a conference with the king and representatives of the Burmese government. War with Burma broke out in 1824 and dragged on until February 1826. This was when the Treaty of Yandaboo began the transfer of Burmese territories, which continued until 1886. The Governor-General, Lord Amherst, and the Burmese Kinwun Mingi (Prime Minister) attended the conference of Malun, which paved the way for this treaty.
Formerly in the collection of Lord Amherst (William Pitt) (Governor General, Port William. August 1823-March 1828), given by his descendant.
Given by Lady Joan Amherst
Location: In Storage