Oil painting
Trees at Hampstead: The Path to Church
1821 (painted)
Constable, John (RA)
Height: 91.4 cm estimate, Width: 72.4 cm estimate
1630-1888 PDP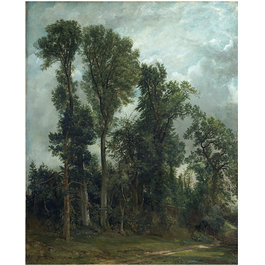 Oil sketch of trees at Hampstead by Constable, England, 19th century.
Painting of a cloudy sky and tall trees.
The artist described the view as 'a natural (but highly elegant) group of trees, ashes, elms, & oak &c - which will be of quite as much service as if I had bought the field and hedge row'. The spire of Hampstead parish church can be seen at the bottom left. Constable and his wife lie buried in the graveyard.
Bequeathed by Isabel Constable, as the gift of Maria Louisa, Isabel and Lionel Bicknell Constable, 1888
Bequeathed by Isabel Constable as the gift of Maria Louisa, Isabel and Lionel Bicknell Constable
Location: In Storage