Oil painting
Artists Sketching among Antique Ruins
ca. 1630 (painted)
Lemaire, Jean
Height: 97.8 cm estimate, Width: 73 cm estimate, Height: 1350 mm, Width: 1120 mm, Width: 200 mm
CAI.22 PDP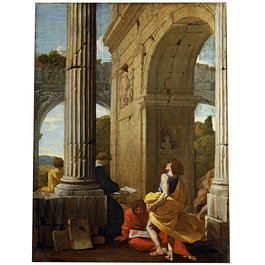 Oil on canvas, 'Artists sketching among antique ruins', Jean Lemaire, ca. 1630
Five figures dressed all'antica are sketching among antique ruins, two flutted columns are in the foreground framing a young man seen from the back, an archway on the right hand-side is seen in diagonal while another seen from the front in the background opens onto a wooded landscape.
Jean Lemaire called le gros Lemaire (1601- 1659) was born in Danmartin-en-Goële, near Paris, and was first trained by Claude Vignon (1593-1670). He went to Rome around 1624 and met there Nicolas Poussin (1594-1665) and Jacques Stella (1596-1657). He became a close collaborator and friend of Poussin and returned to Paris in 1639. He was then appointed 'Garde du Cabinet de peinture de Sa Majesté et son Chasteau du Louvre et Thuilleries', which was to become the first collection of the future Louvre Museum. This painting is a fine example of Lemaire's production of landscape paintings, which combines imaginary and realistic architectural features in a picturesque setting. In this painting, five figures dressed all'antica draw antique Roman ruins, some of which have been identified. It illustrates the fascination for the Antique during the 17th century as well as the taste for idyllic landscapes often peopled with mythological figures.
Peter Norton collection, sold Christie's London 29 January 1869 for £12, lot 914 (as attributed to Nicolas Poussin), bought by Cara for 12.10s. [for C.A.Ionides?]. In the collection of Constantine Alexander Ionides by November 1881, when he valued the painting for £600 (his inventory, private collection). Bequeathed by Constantine Alexander Ionides, 1900.
Bequeathed by Constantine Alexander Ionides
Location: Paintings, room 81, case EAST WALL