Hanging
1720-1750 (made)
Unknown
Length: 301 cm LHS, Length: 298 cm RHS, Width: 329 cm at top, Width: 332 cm at bottom
FE.24-1983 EAS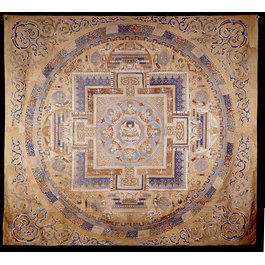 Buddhist hanging, satin weave silk with silk embroidery and couched gold threads, China, Qing dynasty, 1720-50.
Buddhist hanging in the form of a Buddhist mandala. Yellow satin weave silk, the corners of which are decorated with a secular scrolling leaf design while the larger part of the central surface is taken up with the symmetrical religious motif contained within a circle. The hanging is embroidered in satin stitch in untwisted silk floss in light blue, dark blue, greens, reds, and white. In some areas the colours are shaded. There is also gold wrapped thread couched down singly to form outlines. The lining, which is original, is pieced together from similar but not identical yellow self-patterned silk. All the lining silks have some form of floral and fret pattern incorporated into the weave. There are lines of yellow silk ties, many of them missing, attached to the lining.
A mandala can be a graphic object (painting, woven hanging) used in Buddhist meditation or to denote a sacred space. This large silk hanging represents the 'Womb Treasury World', the mystical universal source, or 'womb', from which all things emerged. The iconography is based on the text of the Mahavairocana Sutra: At the centre of the mandala is the Buddha Vairocana, who is preaching the Dharma (the Truth upheld by the Universe) to four Buddhas and four Bodhisatvas. The four Buddhas might be Ratnashvaya (Baosheng in Chinese, East), Amida (Mituo in Chinese, West), Akshobya (AjiuSouth), and Amoghasiddhi (ChengjiuNorth) (it should be noted that these positions may vary in different mandalas). Together with Vairocana, they are known as the Five Meditation or Wisdom Buddhas. The Boddhisatvas are possibly Samantabhadra (or Vajradhara, Puxian, in Chinese; South-east position), Manjusri (or Wenshu in Chinese; South-west), Avalokitesvara (Guanyin in Chinese; North-west) and Maitreya (Mi-le in Chinese, North east). The Manchu rulers of the Qing Dynasty originated from the northeast of China, and the empire extended to neighbouring Monglia and went as far as Tibet. Patronage of Buddhism in these areas was an important aspect of imperial diplomacy, and diplomatic gifts often exchanged. This mandala (embroidered on 'royal yellow'-coloured silk) was possibly presented by Mongol princes to the Yongzheng emperor for a temple under imperial patronage, and possibly one at the important pilgimage site of Wutaishan in Shanxi province.
Registered file number 1973/1005.
Given by Lord and Lady Garner
Location: China, room 44, case 40