Design
ca.1874-1890 (made)
Pasquale Novissimo
Height: 7 cm card, Width: 15.3 cm card, Width: 15.6 cm card
E.208-2012 PDP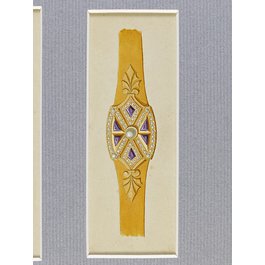 Design for a bracelet, by Pasquale Novissimo, ca.1874-1890.
Design for a bracelet painted in yellow ochre, purple and white to imitate gold, amethysts and pearls on a small, rectangular piece of card.
This is a presentation drawing of a gold bracelet with decoration in amethysts and pearls. The drawing was intended to show a client what the jewellery would look like before the piece was finally made up. It is by Pasquale Novissimo (1844-1914) who was chief designer to the jewellery manufacturer, Carlo Giuliano (1826-95). He worked for Giuliano from the opening of the Piccadilly branch in London from 1874 until just before his death in 1914. Novissimo created this drawing about 1874-1890. Before designing for Giuliano, Pasquale designed stage jewellery for an Italian opera company while travelling with his brother, Giovanni, who was a member of the company.
The designs came to the V&A by descent through the Novissimo family.
Given by Dr Jacqueline Egerton, née Novissimo, great grand daughter of the artist.
Location: Prints & Drawings Study Room, level E, case MD, shelf 45