Print
Let A Hundred Flowers Blossom in Tiananmen Square
2011 (made)
Antonio Claudio Carvalho
Height: 37.2 cm, Width: 27.2 cm
E.453-2011 PDP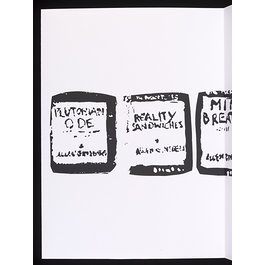 Print, 'Let A Hundred Flowers Blossom in Tiananmen Square', by Antonio Claudio Carvalho, Belguim, 2011.
Folded sheet printed in black on white with images of newstand placards with names of poems by Lawrence Ferlinghetti, Allen Ginsberg, Gregory Corso, Frank O'Hara.
Antonio Claudio Carvalho (born Brazil; lives UK) is best known as a painter and a poet, but is increasingly focused on printmaking – particularly screen printing.This print is an artist's book which takes the form of a single concertina-folded sheet, printed with a poem by Carvalho. The poem was written in situ during the artist's first visit to China, and references such icons of poetry such as Gregory Corso, Allen Ginsberg and Frank O'Hara. The poem is presented as a sequence of images referencing the titles of important influential poems and poetry books, with an emphasis on radical literature and protest. These iconic titles are presented like newspaper sellers' placards, suggesting an immediacy and urgency in the message which poetry can carry in a political context. This is the first of twelve artists' books which responds to the Saison Poetry Library's collection as part of Art on Poetry at The South Bank, London.
Given by the artist
Location: Prints & Drawings Study Room, level F, case TEMP, shelf 3