Oil painting
A Watermill
19th century (painted)
unknown
Height: 20.3 cm approx., Width: 26 cm approx.
1910-1900 PDP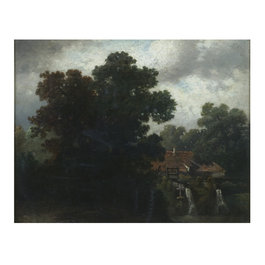 Oil painting, 'A Watermill', British School, 19th century
Landscape with a watermill and trees in the foreground.
Bequeathed by Henry Spencer Ashbee, 1900. Henry Spencer Ashbee (1834-1900) was the founder and senior partner of the merchants Charles Lavy and Company of London, who specialised in silks. He was elected Fellow of the Society of Arts 1877, and travelled around the world 1881. He was the author of numerous articles, particularly on bibliographical subjects. He collected the finest library concerning the life and work of the Spanish author Miguel de Cervantes outside Spain, and his bequest to the V&A of watercolours and over 40 oil paintings includes many illustrating Don Quixote. Ashbee's library also included humorous books, and most notoriously a vast collection of erotica, which he catalogued under the title The Index of Forbidden Books. His library was left to the British Museum. Historical significance: This painting is one of two paintings previously attributed John Constable which came to the V&A as part of the Henry Spencer Ashbee bequest in 1900. As early as 1902 Holmes suggested his doubt of this attribution when, writing of the painting in his book Constable and his influence on Landscape Paintings he stated "Of the two works attributed to Constable which form part of the Ashbee bequest to South Kensington Museum, one does not contain a trace of Constable's manner at any period of his life. The other is a painting by some rather heavy-handed professional-possibly by the versatile Callcott. The conventional treatment of the foliage is enough to prove that Constable had nothing to do with it." (p.234). However the painting was still recorded as being by John Constable in the Catalogue of oil paintings in the Victoria and Albert Museum in 1907 (p.303). The work has since been re-attributed to Anonymous British School. There is no note on the object file stating when the painting was re-attributed. However in his Catalogue of the Constable Collection in the Victoria and Albert Museum (1960) Reynolds states that it is no longer attributed to John Constable (p.6). It was perhaps with the publication of the Constable Catalogue by Reynolds that this work was finally re-attributed. This painting is probably one of the many forgeries of Constables work which flourished in the second half of the 19th.century. Fakes and forgeries of Constables works first started emerging in the 1840s. Such forgeries appeared again in growing numbers in response to sales of Constable's works at the end of the nineteenth century. Holmes warned about the growing number of fakes and forgeries in his 1902 book on Constable (see pages 237-238). In 1888, Constable's last surviving child, Isabel, had given a significant collection of works to the then South Kensington Museum. Following her death, her descendants sold many of works from the collection that she had kept. Inscriptions were often added to these works by Isabel's family to give provenance to works believed to be by Constable prior to their sale, both following her death and in subsequent sales in the 1890s. More recently some of these paintings have been reattributed, notably to John Constable's son Lionel Constable. Some evidence supports the notion that the grandchildren were adding these inscriptions in good faith, but a remark from Hugh Constable made many years after the sales suggest that pressure from art dealers and money had in some cases been involved (Parris et al. p. 98-101). References: Holmes, C. J., Constable and his influence on Landscape Painting, London, 1902, pp.234, 237, 238. Catalogue of oil paintings in the Victoria and Albert Museum in 1907, p.303 Reynolds, G., Catalogue of the Constable Collection, London, 1960, p.6 Fleming-Williams, I, and Parris, L., The Discovery of Constable London, 1984, pp.98-101,110.
Bequeathed by Henry Spencer Ashbee
Location: In Storage