Oil painting
Rocky Landscape with a Statue, a Broken Column and Figures
ca. 1675 (painted)
Moucheron, Frederick de
Height: 78.6 cm estimate, Width: 67.2 cm estimate
480-1882 PDP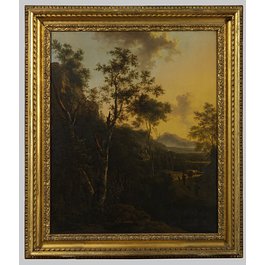 Oil painting, 'Rocky Landscape with a Statue, a Broken Column and Figures', Frederick de Moucheron, ca. 1675
A rocky and wooded landscape with a statue and a broken column in the upper right and figures with hunters and hounds in the middle foreground; a mountainous horizon in the distant foreground.
Frederick de Moucheron (1633-1686) trained with Jan Asselijn in Amsterdam and worked in France (Paris and Lyon) for several years before settling definitively in Amsterdam in the late 1650s. He belong to the second generation of Dutch Italianates such as Nicolaes Berchem, Jan Both, Karel Dujardin or Jan Baptist Weenix and specialised in landscape painting reminiscent of his master's and Jan Both's work. His son, Isaac, trained with him and also become an important landscapist. This painting, one of a pair (see 481-1882), is a typical example of F. de Moucheron's production of Italianate landscapes in which small figures are set in vertical, almost overwhelming, vegetation. This construction looks far less naturalistic than those of the previous generation and corresponds therefore to the ideal classicism that reached its height in the second half of the century. This composition shows an accurate construction that sacrifices to the close observation of nature: the statue and the broken statue's odd position at the top of a rocky versant is a good illustration of these artificial landscapes set as a theatrical stage. Its structure complements the pendant as the mountain with a statue looks symmetric to the rocky versant on the other painting. In this respect, this painting should probably be hung on the right while the other is on the left.
Bequeathed by John Jones, 1882 Ref : Parkinson, Ronald, Catalogue of British Oil Paintings 1820-1860. Victoria & Albert Museum, HMSO, London, 1990. p.xix-xx John Jones (1800-1882) was first in business as a tailor and army clothier in London 1825, and opened a branch in Dublin 1840. Often visited Ireland, travelled to Europe and particularly France. He retired in 1850, but retained an interest in his firm. Lived quietly at 95 Piccadilly from 1865 to his death in January 1882. After the Marquess of Hertford and his son Sir Richard Wallace, Jones was the principal collector in Britain of French 18th century fine and decorative arts. Jones bequeathed an important collection of French 18th century furniture and porcelain to the V&A, and among the British watercolours and oil paintings he bequeathed to the V&A are subjects which reflect his interest in France. See also South Kensington Museum Art Handbooks. The Jones Collection. With Portrait and Woodcuts. Published for the Committee of Council on Education by Chapman and Hall, Limited, 11, Henrietta Street. 1884. Chapter I. Mr. John Jones. pp.1-7. Chapter II. No.95, Piccadilly. pp.8-44. This gives a room-by-room guide to the contents of John Jones' house at No.95, Piccadilly. Chapter VI. ..... Pictures,... and other things, p.138, "The pictures which are included in the Jones bequest are, with scarcely a single exception, valuable and good; and many of them excellent works of the artists. Mr. Jones was well pleased if he could collect enough pictures to ornament the walls of his rooms, and which would do no discredit to the extraordinary furniture and other things with which his house was filled." Historical significance: Frederick de Moucheron trained in Amsterdam with Jan Asselijn but unlike many of his generation, he never seemed to go to Italy and settled in France for some years, more specifically in Paris and Lyon where there were an important Italian community from which he may have been in contact with Italian landscape tradition. F. de Moucheron used to depict landscapes in which other painters would add the figures: Dirk Helmbrecker, Johannes Lingelbach, Adriaen van de Velde and Nicolaes Berchem all provided staffage for his paintings. In this picture, C.M. Kauffmann noted that the figures were long thought to be by Adriaen van de Velde however their costumes seem to belong to a time posterior to his death. Hunting was a popular subject in Dutch Italianate landscapes that enables the artist to challenge the traditional division between figural and landscape paintings. The composition structured upon a massive block of rock at the right-hand side of the picture and a brighter background made of wooded mountains that become increasingly light as they recede into the distance is reminiscent of such late compositions by Adam Pynacker as the two landscapes in the Wallace Collection, London. De Moucheron's work was appreciated primarily for its picturesque and decorative qualities. Another pair by F. de Moucheron in the Kunsthistorisches Museum, Vienna (Inv. No. GG_425 and GG_428). These paintings are also a good example of the influence of the Roman trained French painters such as Nicolas Poussin and his follower Gaspard Dughet during the mid 17th century.
Bequeathed by John Jones
Location: In Storage