Upper part of a fountain
Upper part of a fountain
1450-1475 (made)
Unknown
Height: 95 cm, Width: 81 cm, Depth: 28 cm, Weight: 216 kg
242-1894 SCP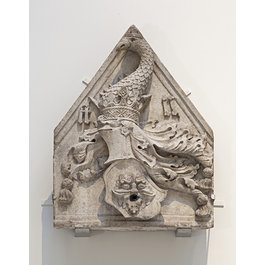 Upper part of a fountain, eagle, coronet, mask, Aquila, 1450-1500.
The uper portion of a fountain, in the form of a triangular panel of istrian stone, carved in high relief with a shield bearing a grotesque mask, and surmounted by a helmet with mantlings. Above this is a coronet from which issues the head and neck of an eagle. The Gothis letters A and N are carved to either side of the coronet.
This triangular panel formed the upper part of a fountain, with the mouth of the mask on the shield adapted to form a spout. The letters A and N either side of the crest-coronet probably stand for 'Aquila Nobilissima' (Italian for 'Noble Eagle') rather than personal initials.
Location: Medieval and Renaissance, room 50a, case WN