Figure
Mahasiddha Virupa
1403-1426 (Made)
Unknown
Height: 79 cm, Width: 41 cm, Weight: 80 kg
IS.12:1,2-2010 SSEA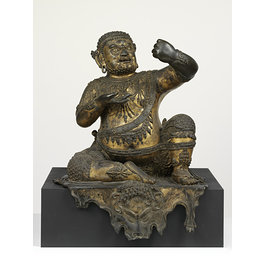 Figure of the Mahasiddha Virupa, gilt bronze, China, Ming dynasty, reign of Yongle, 1403-26.
Gilt-bronze figure of the Indian ascetic Virupa, seated on an antelope skin, with right leg bent at the knee and resting on the ground with sole upward. His left knee is raised with foot flat on the ground. Head with curly beard and moustache and with seperate hair curls in the manner of a Buddha. Virupa's proper right arm is bent, his right hand with palm upwards is held at chest level. A hole in the palm indicates a now missing skull drinking cup, a feature seen on other Virupa images. The left arm is raised, bent at the elbow and the fist clenched in the gesture of holding an object (now missing). This arm has been broken and replaced from the elbow to the hand.
This figure represents the Mahasiddha, or great yogic adept Virupa, who lived in 9th century north India. Such figures lived alone or with a consort and became renowned for their unconventional lifestyles.They were revered in Tibet as enlightened beings and often feature in Tibetan lineages as the teachers of Tibetans who journeyed to India to receive Buddhist initiation. This Virupa is one of the largest and most spectacular surviving works belonging to a group of images produced at the Chinese court during the early 15th century. Close contacts at this time between the Emperor Yongle (1403-1424), who was himself a Buddhist, and Tibetan religious leaders, led to frequent diplomatic and religious exchanges. Visiting Tibetans received similar, though usually much smaller images, which were intended to mark and cement such newly made alliances.
Formerly the property of the Holburne Museum, Bath
Purchased with support from The Robert H. N. Ho Family Foundation
Location: In Storage