Cereal bowl
Sora
2005 (designed) 2006 (introduced) ca. 2009 (made)
Chris Keenan
Height: 7.9 cm, Diameter: 14.3 cm
C.197-2009 CER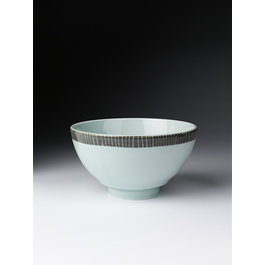 Cereal bowl, porcelain, from the 'Sora' range designed by Chris Keenan for Habitat, made in Japan, introduced 2006.
Sora / Cereal bowl celadon. Habitat Sku 984408. Porcelain cereal bowl of rounded form, with pale blue glaze and printed band.
Studio potter Chris Keenan designed 'Sora' for Habitat, making the prototypes by hand in his London studio. The range was inspired by traditional Japanese tableware. Many of the components are multi-functional and could be bought and used in a number of combinations. Unlike a traditional range, the same patterns and glazes are not used throughout.
The Sora range was designed by Chris Keenan between January and May 2005 at his London studio using hand-made prototypes. The wares were made in Nagoya, Japan. The range was launched as part of the Habitat Autumn/Winter collection in 2006. According to the designer, Sora was known within Habitat as a "hero" range, and accorded high publicity. It was discontinued in 2009.
Given by Chris Keenan and Habitat (UK) Ltd
Location: Factory Ceramics, room 140, case 10, shelf 4